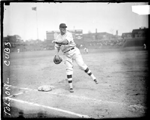 Cubs player Tolson, at Wrigley Field in 1926. SDN-065948
You can browse our PhotoStore to view images selected by staff from our collection of art, artifacts, and photography. Create and order customized prints and gifts at the PhotoStore.
The collection of prints and photographs at the Chicago History Museum contains thousands of images. Among them you will discover postcards of Riverview Amusement Park, photographs of the Chicago Bears playing at Wrigley Field, camera club photographs of Chicago's streets and houses, Infant Welfare Society lantern slides showing turn of the century conditions in the city, and maybe even a picture of your house. This guide will help you navigate this rich resource.
A portion of our collection of photographs has been digitized and can be viewed through our online catalog, ARCHIE. These include images from the architectural photography of Hedrich-Blessing and Chicago Daily News images from 1902-33. Some images have been selected for our photo store. Or, to see images of highlights from the 3-D collection of objects owned by the museum, check Collections Online. But, we have many more collections that can be viewed only at the Research Center, so we hope that image researchers will plan a visit and take advantage of all the possibilities.
We hope that you'll enjoy searching our digital collections of photos. However, the majority of our photos remain undigitized, and to see these, a visit to the Research Center is required. Go to our Research Center home page for information on visiting. For those of you who cannot visit, you may want to hire a freelance researcher to make search on your behalf.